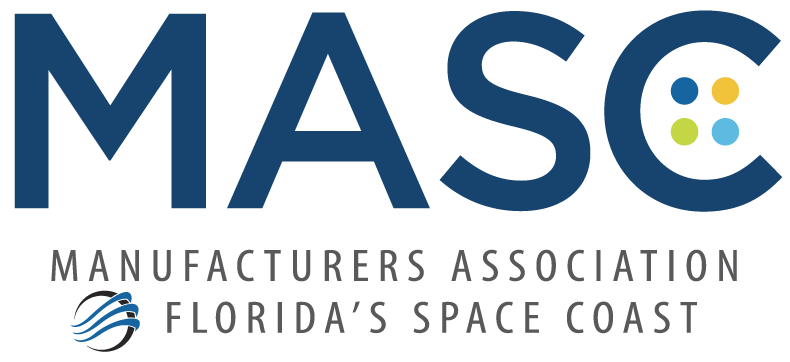 MASC – Manufacturers Association of Florida's Space Coast
The Manufacturers Association of Florida's Space Coast (MASC) has been established to serve the needs of regional manufacturing companies. MASC membership is open to all eligible manufacturing companies on the Space Coast and Investors in the Economic Development Commission of Florida's Space Coast.
MASC is the voice for Brevard County's robust and diverse manufacturing base through action-oriented efforts in four primary focus areas described below. Building upon a 15 year legacy as the regional core for manufacturing.  MASC is governed by the Economic Development Commission of Florida's Space Coast's (EDC) Industry Council.
Join this list of illustrious companies who are members of MASC.
MASC Promotion
Promote regional manufacturing companies, products and careers.
Program of Work:
Explore the possibilities for promotion of your company and products through the Made In Brevard Program
Take part in Manufacturing Day/Month in which we help you celebrate modern manufacturing
Participate in the manufacturing image and attraction campaign to drive interest in manufacturing careers
Make an impact in your business and your community
Help others discover careers in manufacturing
MASC Connection
Connect manufacturers to resources and opportunities.
Program of work:
Learn how to take part in existing manufacturing industry initiatives
Plug into the NIST funded FloridaMakes network to access an array of resources
Network with fellow manufacturing members to bolster local procurement
MASC Advocacy
Advocate for critical issues impacting the manufacturing sector.
Program of work:
Influence positive change in your sector by having your voice heard in Tallahassee and Washington D.C. to ensure business friendly policies persist
Engage in the MASC championship of a minimum of 3 strategic advocacy issues annually
Shape the conversation of what is important to manufacturers in our region
MASC Education
Educate manufacturers, their incumbent workers and the talent of the future.
Program of work:
Improve processes through seminars and workshops focused on such topics as government contracting, international trade and manufacturing process improvements
Learn how to enhance incumbent worker talent development through credentialing programs such as the nationally recognized Certified Production Technician (CPT) program
Assist in growing key manufacturing talent for the region